Over the years, Wouter has been involved in organising and curating many different performances, art-shows, workshops and festivals, below an overview.
Forthwith Festival
Winnipeg, Canada
2017 – 2018 – 2019
Wouter was active as the Artistic Director and Curator of the Music and Workshop program. In this capacity over three years he invited and collaborated with over 70 artists from 20 different countries like: Maria Chavez, Martin Tétreault, Kristina Banera, Nick Klein, Present Elders, Via App, Doreen Girard, Enrique, LXV, Nehiyawak, Scott Fitzpatrick, DJ Hunnicut, Huren, Venetian Snares, Lisa Busby, Leslie Deere, Colby Richardson, Donna Haringwey, Rosa Reaper, Joanne Pollack, Alyssa Bornn, UCHI, F0rm, Gijs Gieskes, Jasm, Leslie Supnet, Hainbach, Nowhere Kitchen, Odd Narrative, Leucrocuta and many others.
Forthwith was an international experimental arts, music, technology and performance festival held at Forth Projects in Winnipeg, Canada in 2017, 2018 and 2019. Artists from around the world converged in downtown Winnipeg for 3 days of performances, workshops, installations, exhibitions, experimentations, teachings, ramblings, and interactive happenings.
---
Common Ground
Berlin, Germany
2017 – 2020
Wouter was active as the founder, director and curator of the workshop program. In this capacity he organised and produced over 160 workshops and meetups on Music Production, Music Theory, Modular Synthesis and Performance Techniques, making Common Ground a central meeting point for the local DIY music scene.
Notable Workshop hosts he invited and collaborated with are: Hainbach, Prof. Nicolas Collins, Bridget Ferrill, Evelyn Saylor, DJ Schlucht, Josa Peit, Moisés Horta Valenzuela, Ioana Vreme Moser, Tomash Ghz and many others.
---
Antimatter @ KM28
Berlin, Germany
2018
Wouter curated a series of shows at Berlin's KM28 focussed on spacial music, inviting artists like Richard Scott, Modelbau, Felicity Mangan, Frans de Waard and Ioana Vreme Moser.
---
Clockwork & Lifeline @ Drumherum
Berlin, Germany
2014 – 2017

Clockwork was a modular-only concert series curated by Wouter Jaspers at Berlin's best kept secret venue Drumherum. There were no rules, no genres, just good music made on modular synthesizers, with visuals made on modular synthesizers. For the people.
Invited artists include: Navs, Electronicpresskit, Allert, ////, Blush Response, Kasia Justka, TVE, Jos Smolders, Seth Zahn, "Trowell, Jaspers, De Turck, Van der Bildt, Stencil", Beam Splitter, Mazen Kerbaj, Audrey Chen & Maria Chavez, Jacob Kirkegaard, Wouter Jaspers + Luca Forcucci and more.
---
Optimus Prime Noisefest
Four editions over 6 years.
Tilburg, Netherlands
2009 – 2014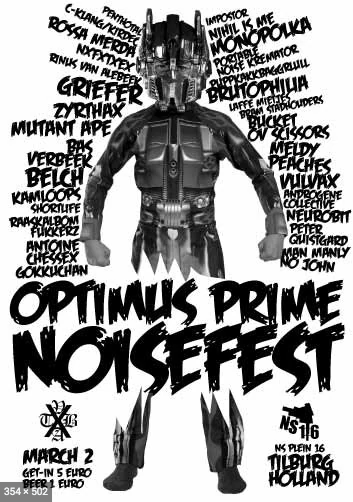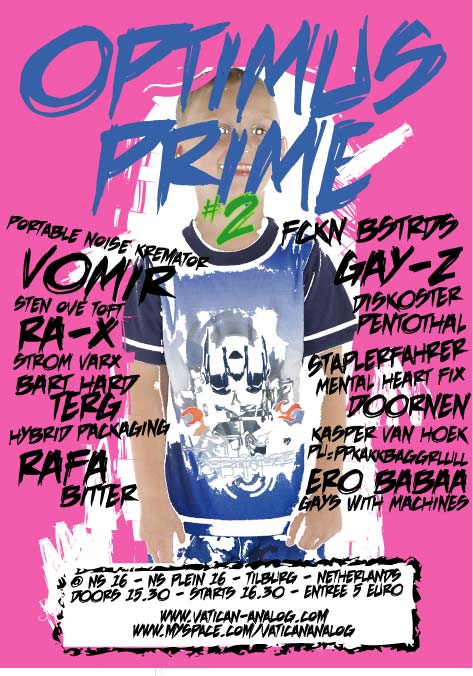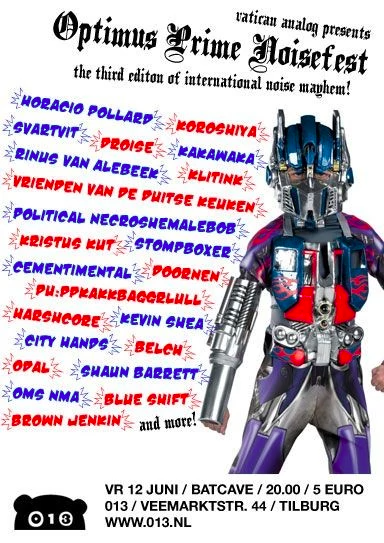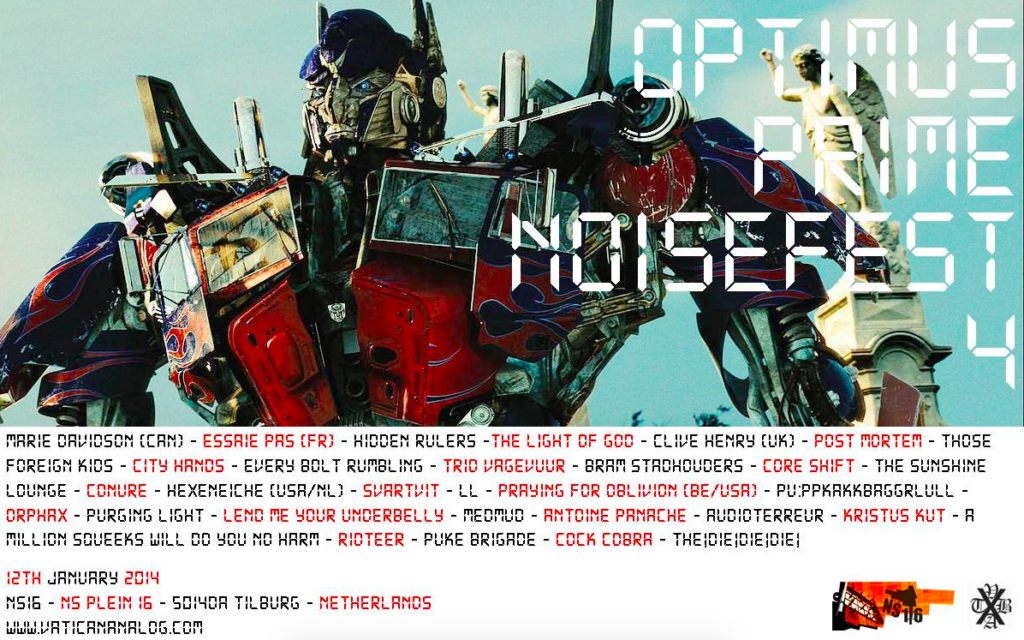 ---
Vatican Analog Nights @ 013
16 editions over 4 years.
Tilburg, Netherlands
2006 – 2010